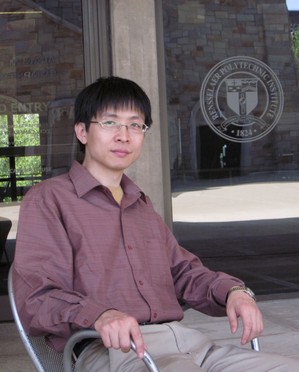 姓名:王文雅
职称:副教授
电子邮件: wangwy@mail.buct.edu.cn
---
教育背景
2004年6月在中国农业大学食品科学与营养工程学院获得博士学位
---
工作经历
2004年7月- 北京化工大学任教
---
主要研究领域
微生物异源生物合成天然产物和功能性蛋白、木质纤维素综合利用、食品分子检测技术、环境生物技术
---
获奖及荣誉
2015年度科技进步三等奖(山东省)
2015年度第二届全国高校微课教学比赛二等奖(北京赛区)
2014年度第二届全国高校微课教学比赛二等奖(生命科学类)
2014年度第十三届北京化工大学优秀青年主讲教师
2008年度北京化工大学优秀教师
---
代表性著作
1、Chao Wang, Xianhong Ouyang, Sisi Su, Xiao Liang, Chao Zhang, Wenya Wang, Qipeng Yuan, Qiang Li. Effect of sulfonated lignin on enzymatic activity of the ligninolytic enzymes C-dehydrogenase LigD and -etherase LigF. Enzyme and Microbial Technology,2016,93:59–69
2、Sujun Wang, Xianhong Ouyang, Wenya Wang, Qipeng Yuan, Aixia Yan. Comparison of ultrasound-assisted Fenton reaction and dilute acid-catalysed steam explosion pretreatment of corncobs: cellulose characteristics and enzymatic saccharification. RSC Advances., 2016, 6, 76848–76854.
3、张晓晖,苏思思,王文雅,袁其朋,李强.. 性激素三孢酸在类胡萝卜素生产菌三孢布拉氏霉中的合成代谢研究进展.化工学报,2016,67:1654-1664.
4、Ouyang X, Wang W, Yuan Q, et al. Improvement of lignin yield and purity from corncob in the presence of steam explosion and liquid hot pressured alcohol. RSC Advances, 2015, 5(76): 61650-61656.
5、Hong-Jia Zhang, Qiu-Xiang Zhang, Wen-Ya Wang, Qi-Peng Yuan et al. A novel cleaning process for industrial production of xylose in pilot scale from corncob by using screw-steam-explosive extruder. Bioprocess and Biosystems Engineering,2014,37(12): 2425-2436
6、Wang, Wenya Wang, Xiaofeng Lv, Qiang Li and Aixia Yan. Development of a prokaryotic-like polycistronic expression system based on a virus-originated internal ribosome entry site (IRES) in industrial eukaryotic microorgani**s. RSC Advances, 2014, 4, 51615–51618
7、Gang Wang, Qiang Li, Dikai Xu, Mingxin Cui, Xiao Sun, Yanyan Xu, Wenya Wang. Construction of a host-independent T7 expression system with **all RNA regulation. Journal of Biotechnology, 2014,189: 72–75
8、潘裕清,王文雅,张秋翔,袁其朋等. 草酸预浸连续汽爆玉米芯制备木糖的模拟与中试研究.过程工程学报,2014,14(4):643-648
9、Xu P, Wang W, Li L, Zhang F, Bhan N and Koffas MA. Design and kinetic ****ysis of a hybrid promoter-regulator system for malonyl-CoA sensing inE. coli. ACS Chemical Biology, 2014,9(2):451-458
10、Wang WY, Englaender J, Xu P, Linhardt RJ, Koffas MA. Expression of low endotoxin 3-O-sulfotransferase in B. subtilis and B. megaterium. Applied Biochemistry and Biotechnology, 2013,171(4):954-62
11、Xu P., Gu Q., Wang W. Y., Wong L., Bower A., Collins C.H. and Koffas M.A. Modular optimization of multi-gene pathway for fatty acids production in E. coliNature Communications, 2013,4: 1409/ DOI: 10.1038/ncomms2425
12、Guo HY, Gao ZQ, Zhang H, Wei Yong, Xu JH, Wang WY, Yan AX, Yu-Hui, Dong YH. Purification, crystallization and preliminary crystallographic ****ysis of the 23S rRNA methyltransferase RlmM (Cm2498) from Escherichia coli. Acta Crystallographica Section F, 2013,F69:640–642
13、Gao Z.M., Zheng Bo, Wang W.Y., Li Q., Yuan Q.P. Cloning and functional characterization of a mannose-binding lectin from Chinese Narcissus (Narcissus tazetta var. Chinensis Roem). Physiologia Plantarum,2011,142(2):193-204
14、Wang W.Y., Yue H.Y., Yuan Q.P., Wang W.C. Partitioning of phenylalanine ammonia-lyase from Rhodotorula glutinisin in aqueous two-phase systems of PEG/salts.Chemical and Biochemical Engineering Quarterly,2010,24(4):459-465
15、Li Y., Wang W.Y., Yuan Q.P., Du X.L. An improved RNA isolation method for filamentous fungus Blakeslea trispora rich in polysaccharides. Applied Biochemistry and Biotechnology, 2010;160(2):322-327
16、Wang W.Y., Yue H.Y., Yuan Q.P., Wang W.C. Biosynthesis of 15NL-phenylalanine by phenylalanine ammonia-lyase from Rhodotorula glutinis. Amino Acids,2009,36(2):231-233
17、Wang W.Y., Yue H.Y., Yuan Q.P. A Primary study on partial purification of lysozyme from chicken egg white using foam separation method. Biotechnology and Biotechnological Equipment,2009, 23(2): 1237-1241
18、王文雅,王素君,袁其朋. 一种利用木质纤维素清洁制备纤维素的工艺.中国专利,CN201610516174.2
19、王文雅,欧阳显鸿,袁其朋,张秋翔,李双喜,一种高纯度低分子量木质素的高产率制备方法,中国专利, CN201510601741X
20、袁其朋,王文雅,张宏嘉,范晓光,张秋翔,李双喜,蔡纪宁,欧阳显鸿,一种利用螺杆造压闪蒸喷爆的方法生产D-木糖的清洁工艺,中国专利,ZL201310470000.3
21、袁其朋, 王乐, 王文雅等. 利用农林废弃物制备木糖醇的清洁生产方法.中国专利, ZL201010225117
22、袁其朋王文雅王晓辉等一种利用挤压膨化技术制备粗木糖液的方法中国专利,